Matthew Campbell is currently admitted to practice law without restriction in all State Courts and Federal Courts of Australia, having been originally admitted as a Lawyer of the Supreme Court of NSW, and is a Solicitor and Barrister of the High Court of Australia.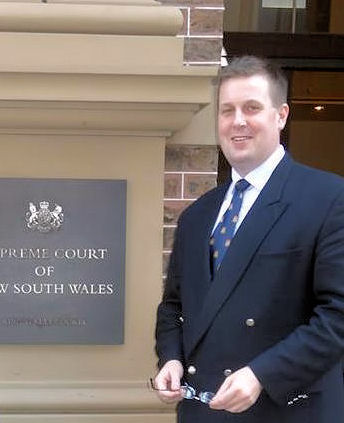 Prior to arriving in Australia to rejoin family in 2008, Matthew completed a Bachelor of Arts (Honours) in Psychology as well as Bachelor of Social Science (Honours) in Criminology at the University of Ottawa and Carleton University in Ontario, Canada, and lived in both Canada and the United Kingdom of Great Britain. Previously he had a background working in Construction and Youth Counselling.
Following on from his undergraduate studies he worked in a number of correctional facilities, penitentiaries and Government Headquarters in Canada at the Federal and Provincial levels, in a variety of roles including social work program delivery, forensic psychological assessment, offender management, and investigations. In these roles he also conducted liaison work with a number of law enforcement agencies including in the United States and Europe along with Interpol. He has represented and advocated for Prisoner and Inmate Rights, Advised on Appeals and Human Rights in Prisons.
Immediately prior to arrival in Australia he was working in private clinical psychological practice as a psychometrist specializing in clinical assessment for psycho-educational disabilities and educational re-training placement, as well as neuro-psychological injury rehabilitation.
Mr. Campbell has since completed a Bachelor of Laws (LLB) through the Graduate Stream at the University of Sydney, specializing in Advanced Criminal Law, and Advanced Litigation & Evidence Law. He has also tutored Law in the Colleges of the University of Sydney, and is the Assistant Sub-Warden of St.Paul's College within the University of Sydney.
In his legal practice, he is predominantly engaged in Trial Law, Appeals, Committal Proceedings, Summary Criminal Cases, Traffic Law and Driving Offences, Coroner's Inquests, Bail Hearings and General Civil Litigation. His legal interest and practice areas also include all forms of Administrative Law, International Criminal Law and Extradition Proceedings, and Mental Health Advocacy and all areas of Public Law. Since being admitted to practice, he has been instructed to act in Murder trials, International Commercial Drug Importation Trials, Extradition proceedings, Sexual Assault and Indecent Assault Trials, Firearms Offences, and other criminal offences including Robbery, Assault, and Computer Crime, Tax Evasion and Benefits (Centrelink) Crimes and Debt Proceedings, Identity theft, as well as Fraud and Drug Supply and Possession.
As a Lawyer and an Advocate, he has appeared in the Supreme Court of New South Wales, the Court of Criminal Appeal of NSW and both the District Court of NSW and Local Court of NSW.
He has also appeared as advocate before the Federal Circuit Court of Australia, and the Administrative Appeals Tribunal and the NSW Civil and Administrative Decisions Tribunal. He has a great deal of experience negotiating with both the NSW Police Force, the Director of Public Prosecutions (Commonwealth and NSW) and the Australian Federal Police on behalf of his clients in police stations. He has attended police witness interviewing and been involved in collecting crime scene evidence for Court on behalf of the defence. He has also acted on common licence matters with various government authorities.
Mr. Campbell also takes on Legal Aid referred work in New South Wales for both State and Federal, as a member of the Criminal Law panel of appointed Private Practitioners to Legal Aid NSW.